On Monday's podcast we discuss the impeachment hearings and what to expect from the 2020 debate airing on MSNBC today. The debate will be held in Atlanta and will debut for the nation the brand new Tyler Perry Studios.
Mayor Pete Pete Buttigieg is surging. Reports are that he is at the top of the polls in Iowa and has now surged ahead 10 points in New Hampshire. Both Iowa and New Hampshire are the first and second primary states.
But the polls still look good for Biden in South Carolina. Once again, African Americans are a factor in the democratic race. If Biden loses support amongst blacks in South Carolina his run for president could be over. Meanwhile, reports are California democrat Kamala Harris' campaign is in trouble. Some in California believe the senator should close up shop.
So, tonight's debate will be interesting. In addition to Biden, Pete Buttigieg and Harris is Senator Elizabeth Warren. She is sure to come under attack for so called flip flopping on her commitment to Medicare for all. I would expect Sanders to take a moment to further distance himself from Warren on this account.
Just a note: Fl. Mayor Wayne Messam, one of the 20+ candidates running in the 2020 democratic campaign for president, has suspended his campaign earlier today.
Take a listen to Monday's show for all of this and our medicare for all discussion:
Mayor Pete is having a moment
Mayor Pete Buttigieg, in a new poll, is leading in New Hampshire. The poll conducted by Saint Amsalem College is the second time the South Bend Indiana mayor has shot to first place.
But the poll could be an outlier. Saint Anselm College is not one of the major polling companies like, say, Monmouth. Monmouth University, which gets an A+ rating from Fivethirtyeight, has the mayor at the top of the polls in Iowa.
This is why Buzzfeed News is calling tonight's debate the "Buttigieg Debate". As they put it:
Pete Buttigieg may not be the candidate most likely to win in February or March or November, or the candidate most likely to "win the debate" tonight. But he should at least be the most interesting candidate on stage.
This all seems to come at the expense of Joe Biden:
"The Biden folks in particular have to feel a little vulnerable right now," Manley said. "Anything is possible. No one has a lock on the race."

The rise of Buttigieg is also seen by many as a sign that voters looking for a centrist candidate are exploring alternatives to the vice president, who is about to turn 77. But allies to Biden say they're not concerned about Buttigieg's rise.
A problem with African Americans
As Denise noted in the podcast, the South Bend mayor is still having issues with African Americans no matter what Iowa and New Hampshire say:
Biden has strong support among African Americans and is counting on their support in South Carolina. A Quinnipiac poll in the state shows Biden with a solid lead in the state at 33 percent. Warren comes in second at 13 percent.

But "Mayor Pete" faces an uphill climb, even his supporters acknowledge. Last week, his campaign came under scrutiny after his team used a stock photo of woman in Kenya on their website as part of a policy outreach to black voters, according to The Intercept. The photo was immediately taken down.
Biden: down but not out
The debate could be due or die for many candidates in the 2020 democratic presidential race. One of those will not be Joe Biden. The impeachment testimony leveling the Trump Administration, may also be hurting Biden, but so far his support remains steady nationwide.
A YouGov poll (listed by Fivethirtyeight as having a B-) has the former vice president with an 8-point lead over Senator Warren. And as mentioned, there is no sign that South Carolina will be competitive for the former VP.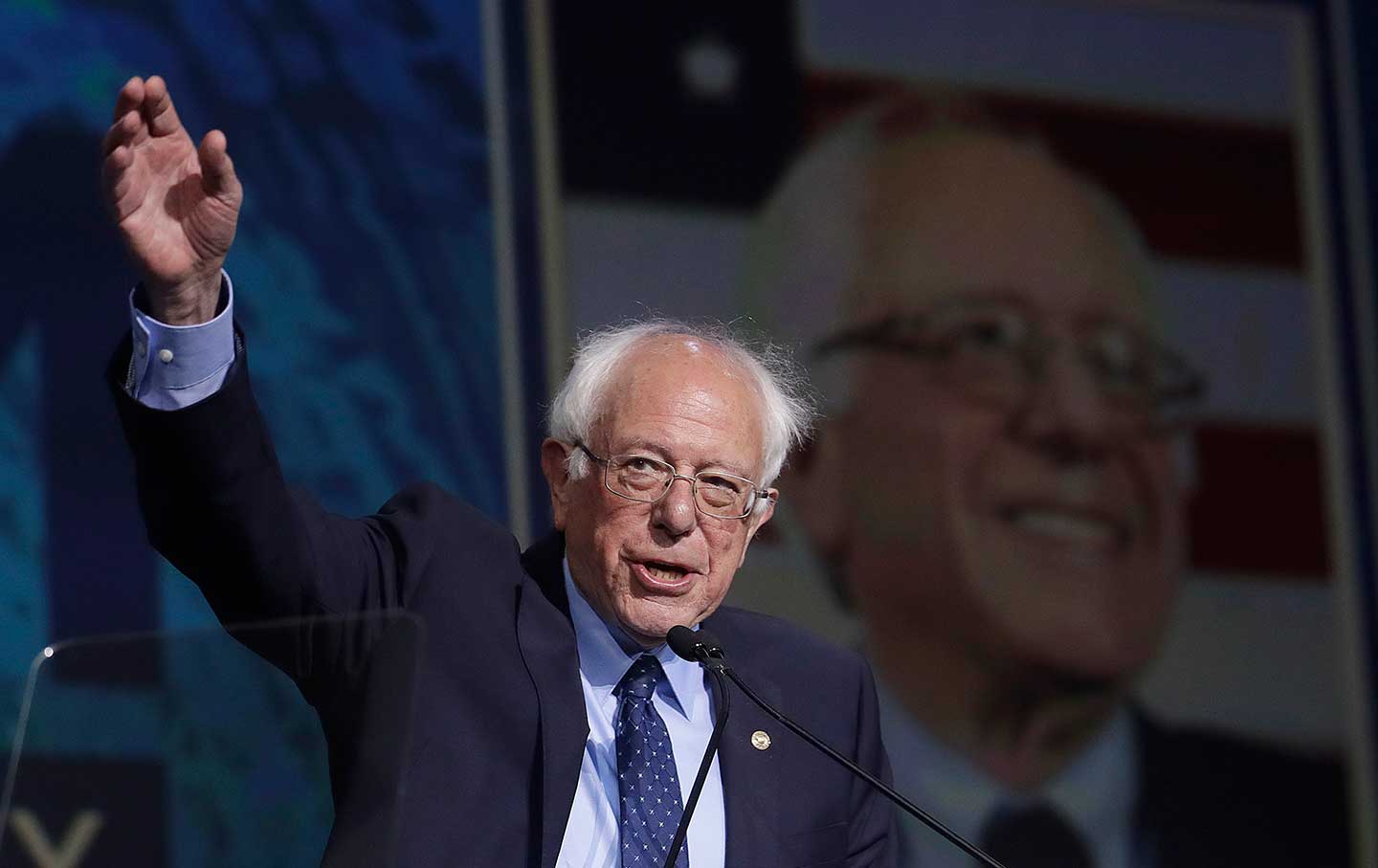 Sanders dominates thanks to recurring donations
Once again no one is talking about Bernie Sanders. If donations is any measure of success, the Vermont senator is the one at the top of the list. According to The Washington Post, Sanders raised 4 million dollars, mostly from recurring donations.
Much of these donations are from online tools like ActBlue, which the post reports:
In the third quarter of 2019, more than $49 million in donations processed on ActBlue came in through recurring contributions, nearly double the $25 million in the third quarter of 2017, according to the platform.

So far in 2019, more than $100 million in donations were processed on ActBlue in recurring contributions, it said.

Leela De Paula, an 18-year-old student at Smith College, became a monthly donor about five months ago.

"I find him to be the most feminist candidate, and that's really important to me, because I feel that just having a woman as a candidate is not enough," she said, adding that she likes Sanders's stances on climate change and poverty. "I'm a monthly [donor], and I buy his merch. I can't afford as much, so I give $10 a month."
Majority report takes on Warren
In our podcast, Denise and I had a spirited and honest debate about Elizabeth Warren's medicare for all plan. Not so coincidentally (Denise references this in the podcast) the Majority Report had a spirited debate on that topic as well. Above is the video that aired yesterday. Host Sam Seder describes Warren's plan a disappointment.
Medicare for all – A Warren flip flop?
There has been much consternation on the progressive left about Elizabeth Warren and her plan to handle Medicare for all. Denise from California and I spoke about this very issue on the podcast. I believe the senator's use of a public option has it's strengths and it's weaknesses. Denise prefers Sanders approach.
Commentary: Why I think Sam is wrong
I disagree with the sentiment that Warren is flipping on her Medicare for all plan. As I stated in the podcast, Bernie's approach of trying to push his plan all at once is going to be a non starter. 
I think attacks on Bernie will come from the left, the right and the center. And if he puts himself in an all or nothing box, which I think is very possible (just listen to the debate on the majority report), he will spend a ton of political capital on just trying to get the plan started.  This could mean a potential first and second year of getting nothing done.
In addition, we don't now what condition the country will be in post Trump.  We don't know what condition the deficit will be in post Trump.  I suspect health and human services will have to stand up this new and improved Medicare for all and we don't know what Trump's cronies will have done to the program before he leaves.
We cannot forget the nightmare the ACA faced when it launched the exchange website for the first time.  It was an embarrassment.  Just imagine what this new souped up version of Medicare will do.  Granted some of the technology that exists will probably be used, but I doubt it will be able to handle the millions that will enter the system in the first year.   
Even Warren's public option, which will allow the poor and everyone under the age of 18 to enroll in year one, will have a huge challenge getting off the ground. Not only will it be severely limited due to horse trading coming out of Congress, President Warren/Sanders will have to provide funding. Again, we could be in a recession by that time so the amount of this funding is going to be key to long term success.
Warren and Sanders have said their plans are a ramp up to health care. I think Sam sounds as if Warren's entire plan in the public option.  It is not.  It is a means to an end.
Her first year includes a public option with executive actions. By year three the administration fully implements the program and eliminates private insurance.
Bernie said in his first year the Sanders administration is going to drop Medicare eligibility from 65 to 55.  But that is not the entirety of his plan.  It will take three years, just as with Warren, for all Americans to be covered by the plan.
Right now, the biggest fear, the boogeyman if you will, is that private insurance will be eliminated on day one.  Warren's plan pushes that off for years.  Again, like with the expansion of Medicare, I would expect that the Supreme Court will not allow the government to eliminate private health insurance.  This is where Bernie's commitment not to pack the courts will stop Medicare for all in its tracks.
At the end of the day I see the implementation of both plans as essentially similar. Both are going to be very difficult to implement. Both assumes a lot and both will take a great deal of political capital.
While I like the idea of Bernie taking on this issue on day one, I think the reality is — it will be nearly impossible given the headwinds. As I said in the podcast, this fight is going to generational and will span many years, perhaps even decades.
I just hope the progressive left/ Sanders supporters can appreciate that.